Completely New Feel and Sound you have never experienced !!


FMC flute and piccolo will make a great impression on you.


FMC Flute Masters

Hand Made Flutes & Piccolos

for advanced and professional flutists

Made in Japan


Master Made M18KB Premium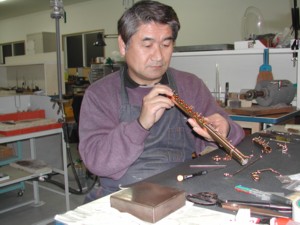 Yoichi Nojima

World renowned craftsman / Great technician
Great master
Julius Baker
has trusted him completely .

- Master Made -

Ultimate handicraft making the established tradition and high technology in harmony




I chose my FMC for its superb intonation, reliable mechanism,
and unsurpassed resonance throughout the range.
Its exquisite craftsmanship allows me to focus on my own artistry.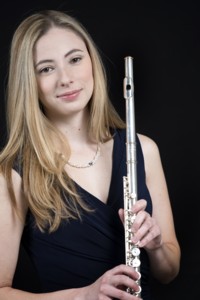 Alex Conway
Winnipeg Symphony Orchestra
Co-Founder and Director of New England Chamber Players
I am totally happy with my FMC flute !!



Henrik Wiese


Symphonieorchester des Bayerischen Rundfunks


The company FMC Flute Masters was established in 1992 by three craftsmen who became independent from the Yamaha
company. They started the company as a repairing house specialized in flutes. Within two years and a half they repaired
over 1,000 flutes and brought them to life for performance. Through this precious experience, they decided to start
manufacturing their own flutes in order to meet the various needs of professional flutists which had been never accepted
by the existing big makers. They studied and mastered both the traditional and high technology and added their own ideas
to it. After repeated trials and improvements, they finally succeeded in manufacturing the ideal flutes.
The Master Made Flutes are the versatile and flexible instruments which can express the player's individuality to their
satisfaction. They are the instruments that can comply with requirements of most players.
Functional beauty, unparalleled sound quality, reliable craftsmanship to details
Master Made Gold
Standard Model



| | |
| --- | --- |
| | |
| Master Made M970 | Standard S925 |
Mr.Nojima was engaged in manufacturing handmade flutes for over 40 years and at the same time overhauled more than
5,000 flutes from the historical instruments such as Luis Lot, Haynes, Hammig flutes, etc., to the latest models.
The craftsmanship, the knowledge gained through the repairing experience and the selected materials gave birth to the
Master Made Flutes with rich sound and good response. They are literally dignified and refined instruments.


Features of FMC Flutes

SOUND

* Headjoint Cut (Master Made Models)

Max series

| | | |
| --- | --- | --- |
| | | |
| Max 1 | | Max 2 with wing |
Next generation cut to produce a powerful sound

g
* Soldered Tone Holes
All the tone holes of FMC Hand Made Flutes including the Standard Model are soldered for
better sound and response.The tone holes of FMC Flutes are undercut conically like that of
Clarinet, Oboe and Fagot. Undercutiing of the tone holes is indispensable for woodwind
instruments. It's one of the important factors to produce a great timbre.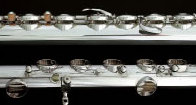 * Scale
Their own scale is applied by recalculating those scale corrections of historical instruments.
This is not the scale based on one simple theory.
The well-balanced sound of correct intonation is produced in all registers.
DESIGN
      * Crown

The beautifully shaped crown has the refined cut ring.
* Key Design

Tear drop shaped trill keys fully provides the comfort and preferred hand position.
MECHANISM
*
Pinless Construction
In order to avoid even slight damage, FMC Flutes applied pinless construction and use the bridge mechanism
and socket head screws to secure keys to the fixed position.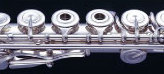 *
Shaft

The shafts coated with titanium are really durable and strong against rust. The gentle feel is also maintained.


*
Key Cups and Snaps
The Key cup of the FMC Flutes is designed and made based on the shape of key pad. This can make the key pad
completely fit the key cup for longer time and ideally. The specially made flange of the snap can firmly keeps
the ring key pad as below. The mechanism can provide the stable conditions for good resonance.

* K16.8, Quality Gold Springs

The quality gold of K16.8 containing 70% gold is used for the spring wires.
They effect the light and smooth feel of key mechanism in the hands.
MATERIALS
* Silver 970 and 997

A silver alloy, so-called Sterling Silver consisting of 92.5% silver is widely used by flute makers.
In addition to this 925, Master Made Flutes use special alloy of Silver 970 and 997
(respectively 97.0% and 99.7% silver) as materials for superb resonance and projection.
Seamed tube
FMC Flute Masters developed the new models of ideal seamed tube ; the sheet of precious silver material
970 is wound into pipe and then specially welded using the same silver (970) material. (It's generally welded
using the wax material.) This welding way has the remarkable merits of better resonance and more durability,
as well. The company FMC Flute Masters dared to tackle this difficult process with their high technology and
finally succeeded in the development of this completely new seamed tube.

Image


For all inquiries, please contact

FMC Flute - Exporter
MORIZONO IMPORT & EXPORT CO., LTD.
+81 3-5918-8622